Go back
Watch our full Fleet Electrification webinar.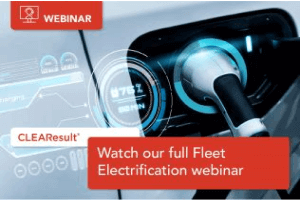 One thing is clear—fleet electrification is happening fast. In our April webinar, Fleet Electrification: Changing Tech and Teams Together, Transportation Electrification Director, James Russel took the wheel and walked our guests through an in-depth conversation about the zero-emission vehicle future fleet managers should start planning for.
The group jumped right into the details to highlight the importance of early engagement for utilities and their fleet customers, building transparency for people pursuing electrification, and capturing the current momentum to make the shift as quickly as possible.
Thank you to all our guests! Watch the full conversation below and keep an eye out for more Energy Transition content soon.
Presenters included:
James Russell
Director, Transportation Electrification
CLEAResult
Varun Thakkar
Senior Practice Consultant
CLEAResult
Rick Rosa
Manager, Electric Vehicle Programs and Products
Avangrid, Inc
Ben Yenter
Director of Product and Accounts 
ChooseEV
Go back