Guide your customers to better energy efficiency solutions and products.
Connect the dots faster for utility customers with personalized recommendations and configurable user experiences designed to maximize their energy savings. CLEAResult ATLAS™ Connect makes it easy to find the energy efficiency programs and products best suited to one's needs by guiding customers from A to B.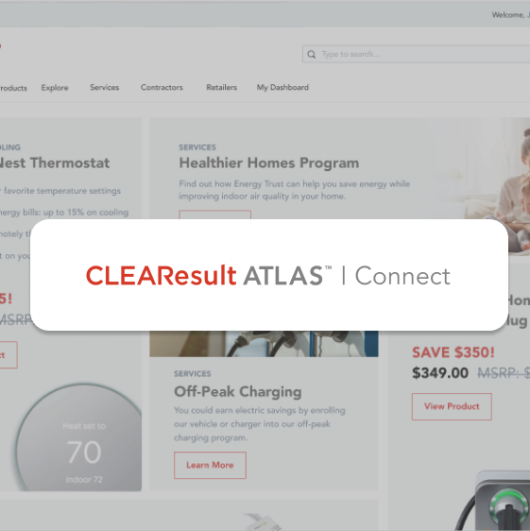 Key features and benefits
Customer-centric configuration
Prioritize the customer experience with custom configuration, continued engagement and real-time access to data.
Leverage our full energy efficiency software suite
Guide customers to ATLAS Marketplace™ to buy efficient products, or to ATLAS™ Qualify to ensure program eligibility.
Simplify efficiency assessments
Engage with customers virtually or through a guided energy assessment that identifies their needs and next steps.
Energy efficiency, energy transition and decarbonization programs we support:
In-Home and Virtual Energy Assessments
Energy Efficiency Marketplaces
Direct Install & Weatherization
Heating and Cooling (HVAC)
Residential and Small Business
Commercial and Industrial
Electric Vehicles Solutions
Request a CLEAResult ATLAS™ Connect demo
Please provide your contact information below and we'll get back to you shortly.