Enjoy superior flexibility with multiple ways to verify customer eligibility.
Ensure your community members receive the energy savings they deserve through a simplified approach backed by twenty years of industry-leading energy efficiency expertise. CLEAResult ATLAS™ Qualify is the only energy efficiency software solution that quickly qualifies customers and offers three income verification pathways for added ease.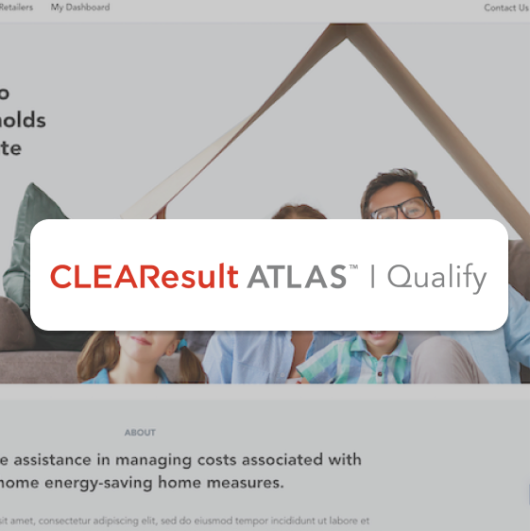 Income Verification Pathways:
A. Rate code
Integrate your rate codes directly into CLEAResult ATLAS™ Qualify for fully automated verifications. Customized flagging and tagging, (i.e., previously qualified customers) can help keep your portfolio organized.
B. Income rating service
Our API can automatically verify the income information people provide in real time using an exclusive third-party data partner.
C. Document review
If eligibility cannot be determined through automation, customers can be verified through a modernized standard review. Acceptable documents are clearly displayed within a guided upload process before being sent to your team for final review.
The CLEAResult ATLAS™ Qualify difference:
Localized languages for ease of use to a wider demographic
Optimized for use across all devices, including mobile
Configurable branding to match your website and other customer-facing experiences
Automated customer eligibility screening to speed up qualification and enrollment
Optional verification modules for added authentication
Integration with CLEAResult ATLAS™ Connect and Marketplace
Request a CLEAResult ATLAS™ Qualify demo
Please provide your contact information below and we'll get back to you shortly.