Empower your customers to take energy efficiency into 
their own hands.
Start building a direct relationship with clean energy advocates and everyday savers by providing easy access to energy-efficient products. White labeling our digital storefront is a simple, scalable way to increase customer awareness and satisfaction.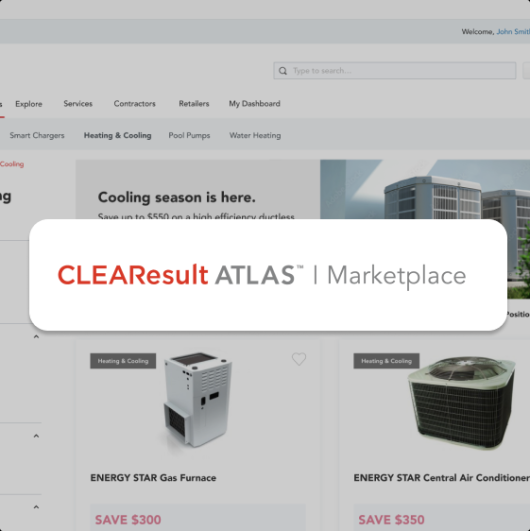 Key features and benefits
Cohesive branding
Showcase all your energy-saving offers easily and adjust your promotions at any time, all while aligning messaging for a cohesive customer experience.
Powerful cross-promotions
Deliver more opportunities to save than ever, with cross-promotional offers, pre-configured energy efficiency kits and instant discounts all in one place.
Customer-centric configuration
Guide your customers to products that best fit their needs and include energy efficiency rebates or discounts that are applicable.
The CLEAResult ATLAS™ Marketplace difference:
Custom product mixes for different customer segments
Scaling and data sourcing through CLEAResult ATLAS™
Cross-promotion for instant and traditional rebates
Best-in-class technology that scales securely with 99.9% uptime
Multilayered fraud prevention capabilities
Dynamically architecture for peak sales periods and events
Request a CLEAResult ATLAS™ Marketplace demo
Please provide your contact information below and we'll get back to you shortly.